Training & Certifying in the NBAS
We offer training and certification in the NBAS tool which can be used in both clinical and research settings. Read more below about the process on how you can achieve your certification through our course or click the button to book now.
Scroll Down
The NBAS Course and Certification
We will give you thorough teaching and support to guide you to becoming confident and ready to use the NBAS tool.
For more information about the NBAS tool and using the NBAS tool, click here.
Please note that an NBAS certificate does not entitle the person to train others in the NBAS.  The NBAS can only be taught by trainers who have been approved and trained by the Brazelton Centre.
✔ Step 1.
Pre Course Preparation
After registration, study the NBAS manual you will be sent. We will also send you a link to an NBAS step-by-step administration video.
✔ Step 2.
2 day training course
Learn administration and scoring of the NBAS through presentations, interactive exercises and a live demonstration with a newborn baby and their parents.
You will receive your CPD certificate and points after attending the course.
✔ Step 3.
Practice Phase and Support
Carry out 20-25 NBAS sessions with full-term babies in your own practice area. Scoring each session and keeping a record of sessions in your log book. You will receive follow up mentoring through conference calls or skype.
✔ Step 4.
Certification
An NBAS trainer will evaluate your administration and scoring of the NBAS on 1 or 2 healthy babies. Competence in administration and scoring reliability of 90% are required to certify.
You will now receive your certified practitioner pack including your certificate. Your CPD points will also be topped up to the full 50 hours through our partnership with the Infant Mental Health Recognition Register.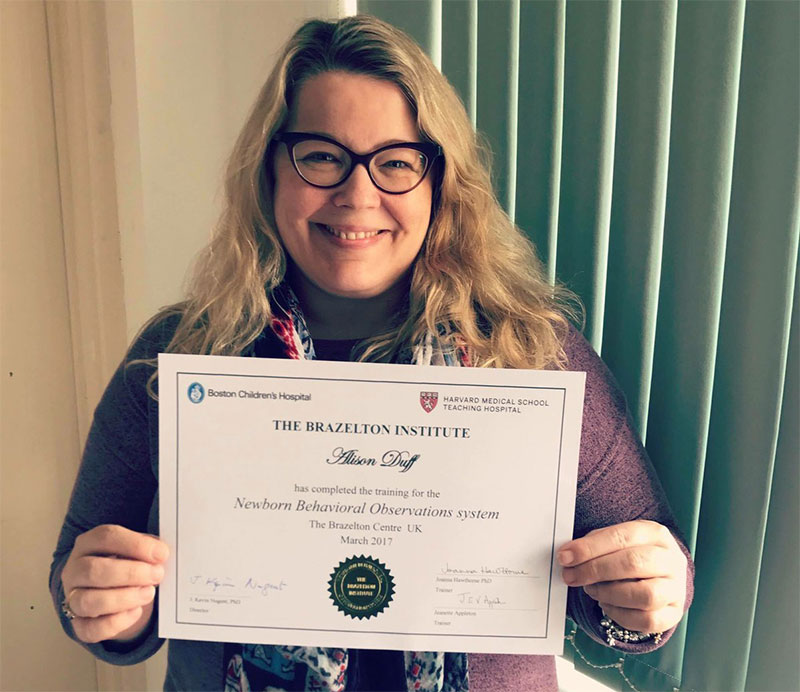 Re-certification every 3 years for clinicians is not compulsory, but it is highly recommended for researchers.  We offer a one day Refresher Course if there are NBAS trained people who would like the opportunity to update and refresh their knowledge.
To arrange re-certification please email us info@brazelton.co.uk or call 01223 314429
Training Fee
£745.00 (£373.00 if previously taken NBO training in the UK)
Fee includes:
2 day course (with lunch and refreshments)
NBAS kit, NBAS book and hand-outs (all provided at the training)
Post-training support conference calls
*A cancellation charge (up to 100% of the booking fee) may apply if a training place is cancelled less than two months from the date on which the training is scheduled to take place.*
If there are 13-20 people interested in training, we can come to you. Learn about Group Bookings using the button below.