Neonatal Behavioural Assessment Scale
The Neonatal Behavioural Assessment Scale (NBAS) is the most comprehensive neurobehavioral assessment available for newborn babies, which gives a strength-based,  in-depth profile of an individual baby.
We offer training and certification in this tool which can be used in both clinical and research settings.
Scroll Down
The NBAS Tool
The NBAS can be used with babies from birth to 2 months, premature babies from 35 weeks gestation and developmentally delayed babies.
In summary the NBAS shows:
The newborn's responses to his/her new extra-uterine environment
The newborn's contribution to the parent-infant relationship
The newborn's individuality
The scale includes 53 scorable items which are either administered or observed:
Habituation (sleep protection)
Social Interactive responses and capabilities
Motor System
State Organisation and regulation
Autonomic System
Reflexes
Key assumptions the NBAS is based on:
Infants are social beings ready to communicate
Babies communicate through their behaviour
Infants' communication is not random
Following an NBAS session the practitioner will be able to share with the parent all the baby's amazing strengths, as well as areas of vulnerability, from which suggestions and guidance to support the baby can be given.
When it was developed, the NBAS offered the first strength-based assessment of babies – previous tests available were designed to test abnormalities!
Using the NBAS
The NBAS can be used by a wide range of professionals involved in clinical work with infants, including (not exhaustive)
Neonatal Doctors and Nurses
Paediatricians
Occupational Therapists
"If we accept the notion of the newborn as an active participant in early interaction, the careful assessment of an individual infant should help us to understand the infant's side of the dialogue. Also, any professional who wants to support early attachment will find it useful to illuminate the nature and capacities of the baby for the parents."
Dr. T. Berry Brazelton
It can also be used by researchers to examine, for example:
The effects of prematurity
Low birthweight
Neonatal behaviour in different cultures
Effects of prenatal substance exposure
Effect of exposure to maternal prenatal low mood
In clinical settings:
Give professionals in depth knowledge of infant development and behaviour
Add a strength-based perspective alongside other care and assessments
Offer fascinating insights and guidance to new parents thus helping build rapport with parents
The NBAS Course and Certification
We will give you thorough teaching and support to guide you to becoming confident and ready to use the NBAS tool.
Please note that an NBAS certificate does not entitle the person to train others in the NBO.  The NBAS can only be taught by trainers who have been approved and trained by the Brazelton Centre.
✔ Step 1.
Pre Course Preparation
After registration, study the NBAS manual you will be sent. We will also send you a link to an NBAS step-by-step administration video.
✔ Step 2.
2 day training course
Learn administration and scoring of the NBAS through presentations, interactive exercises and a live demonstration with a newborn baby and their parents.
You will receive your CPD certificate and points after attending the course.
✔ Step 3.
Practice Phase and Support
Carry out 20-25 NBAS sessions with full-term babies in your own practice area. Scoring each session and keeping a record of sessions in your log book. You will receive follow up mentoring through conference calls or skype.
✔ Step 4.
Certification
An NBAS trainer will evaluate your administration and scoring of the NBAS on 1 or 2 healthy babies. Competence in administration and scoring reliability of 90% are required to certify.
You will now receive your certified practitioner pack including your certificate. Your CPD points will also be topped up to the full 30 hours through our partnership with the Infant Mental Health Recognition Register.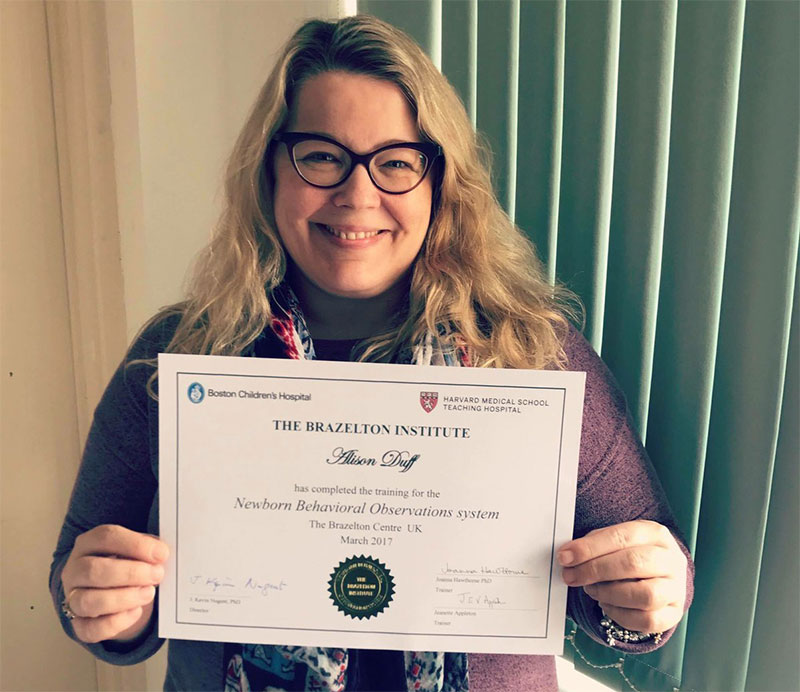 Re-certification every 3 years for clinicians is not compulsory, but it is highly recommended for researchers.  We offer a one day Refresher Course if there are NBAS trained people who would like the opportunity to update and refresh their knowledge.
To arrange re-certification please email us info@brazelton.co.uk or call 01223 314429
Training Fee
£745.00 (£373.00 if previously taken NBO training in the UK)
Fee includes:
2 day course (with lunch and refreshments)
NBAS kit, NBAS book and hand-outs (all provided at the training)
Post-training support conference calls
*A cancellation charge (up to 100% of the booking fee) may apply if a training place is cancelled less than two months from the date on which the training is scheduled to take place.*
If there are 13-20 people interested in training, we can come to you. Learn about Group Bookings using the button below.