Since November 2017 we have recruited a fantastic team of seven volunteers.
They are helping out with diverse tasks such as data entering, literature review, preparation of training materials and video editing.
Up until May they have contributed with a total of more than 250 hours of their time, as displayed in the chart below. It was remarkable how they helped us most during our office move in March, when we most needed it.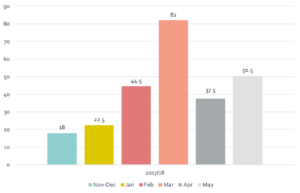 We are deeply thankful for their support and organised a volunteers' event today, in order to have the chance to get together around coffee and snacks.
We also gathered feedback from their experiences and were pleased to see they feel appreciated and overall satisfied, considering our staff extremely friendly.
One of the comments was: "It has been an amazing experience for me and I am sure it will be really useful for new experiences in the future."
A huge thank you to our volunteers from our Centre for your invaluable contribution.
– Susana Nicolau, Research and Development Manager